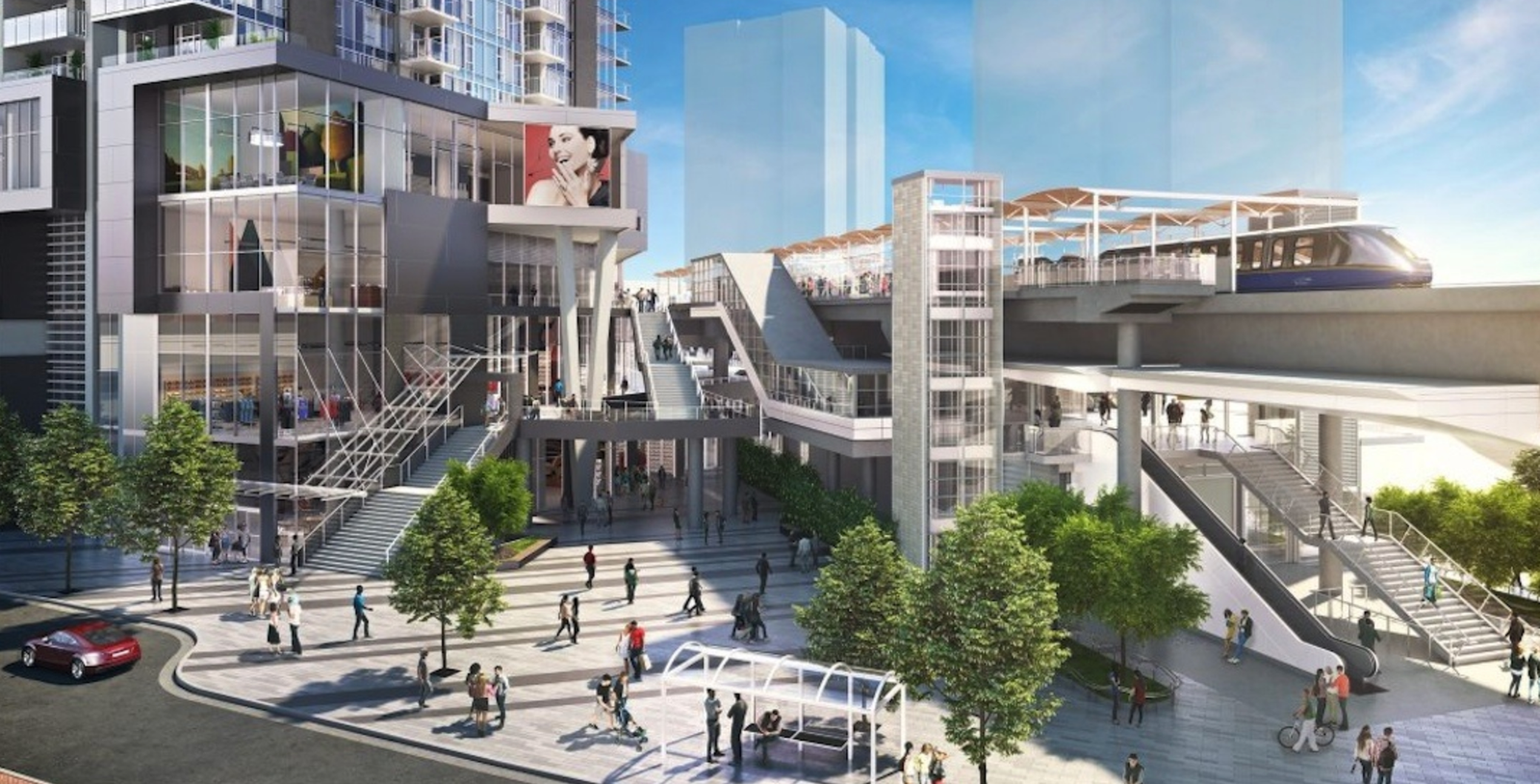 Don't you love fall? It's the season of cozying up in sweaters, leggings, comfy boots and a coffee in hand, wandering the neighbourhood checking out the latest construction on upcoming Brentwood Park condo developments. 
No? Just me?
Well anyway. My favourite project to talk about this month is 
Gilmore Place
, a huuuuge master planned community being built by the Gilmore Skytrain Station. I've been talking about Gilmore Place for a long time, awaiting updates with everyone other realtor out there, and things are finally kicking into gear for the Brentwood Park condo development. Sales may have started, but with such a big project there's still time to own a home in Gilmore Place. Phew! It's not too late, you guys! 
Construction has begun, and if you drive by the lot there's a giant pit with cranes aplenty, getting ready to bring you your future home. The current site can be spotted on the corner of Gilmore and Lougheed beside the Gilmore Skytrain Station. This humble pit will soon be home to a whole community of Brentwood residents (Brentwoodians? Have we decided on that yet?) with 10 towers to be build over the next few years.
Gilmore Place is brought to us by Onni, one of North American's leading real estate developers. You may remember them from such towers as Centra, Brava, The Mark, and Brookmere, and Brentwood's own Marquis Grande. They've built over 12,000 homes and know what home-owners want in an urban setting like Brentwood. 
Gilmore Place will be serving up a community so great you'll never have to leave home (but a killer location close to everything for when you do). Gilmore Place will feel like a mini-city, making it easy to stay in shape, have fun, and be social. Forget your car, forget your skip the dishes account, forget making coffee at home because life will be mega-convenient and access to pretty much everything will be right outside your door. 
Gilmore Place will be home to 500,000 sq ft of retail shops, with street-level shopping in open-air plazas. No more 80s-style indoor malls trapping you inside with stale recirculated air, florescent lighting, and boring big-box stores. Gilmore Place will boast boutique shops, great restaurants, and and cozy cafes.
If you're still on the fence, imagine living in Western Canada's tallest tower, with that VIEW, close to everything you could need and want. Imagine living steps away from a state-of-the-art private wellness centre with a couple gyms, a games room, study room, party room, indoor pool and hydrotherapy pools, hot tub, sports court, workshop, guest suites, indoor play area, dog park, movie theatre, bowling lanes, golf simulator, and MORE.